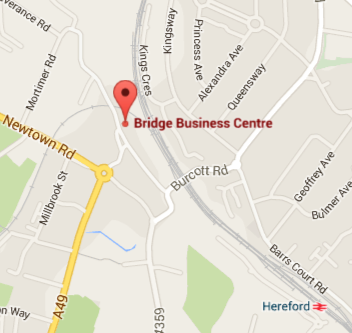 HEREFORD CERAMIC TILES
Unit 2 Bridge Business Centre
Burcott Road
HEREFORD
HR4 9LW
---
Please visit our showroom. Directions on how to find us:  We are located off Burcott Road.  Follow Burcott Road, behind Curry's, Carpet Right and Harveys. Over the level crossing. 100yards, turn right through the gates by Blue Line Taxis. We are 50 yards from there on the right. If in doubt please phone for directions. We are happy to help.
tel: 01432 355321 / 07866 542772
email: hereford.tiles@gmail.com
PLEASE NOTE: We are closed on Friday 13th December. We will reopen on Saturday at 10am. We are very sorry for any inconvenience caused. Thank you.
OPENING TIMES
Monday                9.00am – 4.00pm
Tuesday                9.00am – 4.00pm
Wednesday          9.00am – 4.00pm
Thursday              9.00am – 4.00pm
Friday                    9.00am – 4.00pm
Saturday               9.30am – 4.00pm
Sunday                      CLOSED